B.Tech Admission 2016

Open House @IIITD
IIIT-Delhi welcomes all the B.Tech. aspirants with JEE Mains Rank upto 10000 for third Open House Session on June 29, 2016(Wednesday) from 9:30 AM to 1:30 PM. Student volunteers will be available for an interaction session and to take visitors around. There will also be an Interactive Q&A session with Prof Pankaj Jalote, Director IIITD, Prof Dheeraj Sanghi, Dean of Academic Affairs, IIITD and other Senior Faculty from 11 AM-12 Noon. Detailed schedule is available here.
For queries call: 8800774895, 8800774897, 9599384994, 9599384995,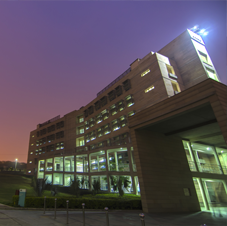 Download Brochure
Admissions to B.Tech. 2016 will be done through Joint Admission Counselling, Delhi. Online application will start from the 24th June 2016 (tentative). Details about admission criteria, seats, reservations etc are given in the Admission Brochure. Admissions for foreign nationals/PIOs/NRIs will be through DASA - more details are available here. Links for last year's cutoffs and FAQ are given in the left pane.
Prospective students:
About the Institute
IIIT Delhi was created by an Act of Delhi Government in 2008. Since then it has gained a high degree of respect within the academic community, and is widely regarded as one of the top Institutions in the country for research and education in IT areas – in particular Computer Science and Engineering (CSE), Electronics and Communications Engineering (ECE), Applied Mathematics (AM) and Computational Biology (CB). It has about 40 full time faculty members, all of whom are PhD from fine institutions across the world (more than half have PhDs from US or Europe), with almost all having significant global exposure. The regular faculty is supported by visiting faculty (appx 10) and guest faculty for teaching courses. There are a number of adjunct faculty from industry as well as other Institutions.

The institute offers a vibrant and active campus life which inspires a healthy learning environment coupled with ample opportunities to grow holistically.
IIIT Delhi is distinguished by its excellent faculty having PhD from institutes of repute from across the world. Read more about our faculty
here
.
Being a part of a research-based institute, our faculty is actively engaged in research. IIIT-D also encourages BTech students to undertake innovative research projects. Read more about research by BTech students
here
.
Education and Placement
The Institute offers three BTech programs – in Computer Science and Engineering (CSE), Electronics and Communications Engineering (ECE), and Computer Science and Applied Mathematics (CSAM). The BTech (CSAM) is a new program introduced in the current year. The education programs are as good as any Tier I institution in the country.
Application Process, Seats, and Foreign Students Quota
Foreign students Admission, Eligibility and Fee will be as per guidelines of DASA 2016 (Direct admission to students abroad 2016) - please refer to https://www.dasanit.org/dasa2016/ for details.
Induction Program
Incoming students will be invited to an induction program before the start of the semester to help them transition from school to college. There will be fun activities to help the students bond with their seniors, and programming familiarization sessions to gear them up for some coding.
Expectation from Students
IIIT Delhi takes academics very seriously and expects all its students to do so. Each semester a student normally does about 5 courses, and each course has a workload of about 10 hrs/week. Hence a student should be ready to work hard – that indeed is the only way to learn.