Amrit Srinivasan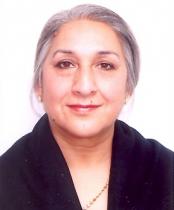 PhD, University of Cambridge, UK
Prof. Amrit Srinivasan joined the Institute as Visiting Professor in sociology/social anthropology in 2016. Earlier, she served as Professor and Head of the Department of Humanities & Social Sciences at The Indian Institute of Technology Delhi (1992 -2014). This long association led to an innovative teaching and research career which questioned mainstream social science with ideas drawn from art, technology and design. Most recently, she has contributed to the formulation of Computer Science and Social Science (CSSS) - an innovative new undergraduate degree programme at IIIT-D. On the research front, she has trained doctoral students from science and technology disciplines in the critical use of ethnographic and local knowledge methods.
Prof Srinivasan promotes ethnography in the search for real life, policy solutions to the problem of unsustainable consumption in India. She has been invited Expert for the Sustainable Summer Schools organized by European design institutions and research universities / think tanks in Cologne and Barcelona (2013 and 2014). Today, she partners with them from IIIT-D, on an international project Sustainable Lifestyles Accelerator (SLA) (2018-21). The online web platform/mobile App SUSLA to be launched by SLA, will use gamification tools to calculate the unique footprints of individuals and households and encourage them to volunteer for change, through actions that reduce energy consumption.
While still at IIT Delhi, Prof Srinivasan partnered on the European Commission project LeNS, the Learning Network on Sustainability which disseminated learning materials to European and Asian institutions through a web platform. She co-edited and contributed to the much-cited LeNS project volume, Product Service System Design for Sustainability, brought out by Greenleaf and later Taylor & Francis (2017).
Prof Srinivasan received the prestigious Tagore National Fellowship for Cultural Research Award in recognition of her work on Feminine Professionalism in the Classical Indian Performing Arts (2015-17). Knowledge Tradition Text, her edited volume on the latter, promoting theoretical, multidisciplinary approaches, was published by Sangeet Natak Akademi in 2007. In 2010, she was nominated to represent women on the MHA GOI's National Integration Council. In 2009, she was deputed ICCR's Visiting Professor at Tel Aviv University's East Asian Studies Department, Israel. Earlier she was the recipient of the Commonwealth Scholarship Award, the Shastri Indo- Canadian Fellowship and the Charles Wallace Fellowship Awards.
Research Interests:
Design ethnography, the performing arts, knowledge society, social diversity, culture & lifestyle studies.
Teaching Interests:
The Sociology of the City; Culture and Consumption in Society; IT & Society; Economic Sociology; Classical Sociological Theory.