Aasim Khan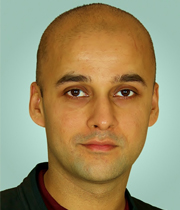 Head & Assistant Professor (SSH)
PhD (2018), King's College London
Dr. Aasim Khan is Assistant Professor at the Department of Social Sciences and Humanities, IIIT-Delhi. As a social scientist he has cross-disciplinary interests in theories of social media, social networks and Big Data. His research themes concern the rise of new media platforms and digital technologies in society, and their implications for politics, policy and more broadly democracy in contemporary world. He earned a Bachelor of Science from St Stephen's College, Delhi University and then an MA in mass communication at AJK Mass Communication Research Center, Jamia Millia Islamia. Subsequently he worked for many years in broadcast news journalism (CNN-IBN) and international development (inc. Oxfam GB). In 2010, he moved to the UK and completed an MA from the School of Oriental and African Studies, University of London. Subsequently, he joined his doctoral research at King's College London and, in 2018, he was awarded a PhD in Politics and Public Policy (Contemporary India).
Over the years, Aasim has received several grants and fellowships for his research work. These include the Global Institutes Studentships and the Mazumdar Fellowship (2012-2015) in the course of his doctoral studies at King's India Institute, KCL. In 2014, he was awarded the Global Governance Futures fellowship by the GPPi Institute (Berlin) to join a international study group on Internet governance. Their report was subsequently published by GPPi and the Brookings Institute, Washington DC. His research and commentaries have also appeared in academic and popular media publications, including the Economic and Political Weekly, Culture Unbound, Global Policy, Television and New Media and he has also published several book chapters and more recently ao-authored a chapter in a volume on digital transformations in urban India (DigiNaka, Orient Blackswan, 2020). Aasim was appointed Associate Researcher at the Centre de Sciences Humaines (CSH, UMIFRE n°20) in September 2021.
He is currently undertaking multiple research projects, and is a co-Investigator for a project supported by the GCRF (in collaboration with Goldsmiths University, UK). Aasim is also the Director on a project funded by the IMPRESS scheme of the ICSSR, which aims to study environmental policy and politics in 'millennial India'. At IIIT-Delhi, he has established an independent research project NewsLab that aims to explore the social science, ethics and practices of digital journalism in South Asia. For further details, especially for those looking for internships and research positions, please see the website: here.
Research Interests:
Governance, public participation, social movements, civic media and journalism
Teaching Interests:
Digital Politics and Policy, Democracy and News, New Media and Society, Critical Thinking in Digital Era